6:15 AM 12/28/2018 - Deputies and police remain vigilant for wanted suspect in Tuolumne County | Michael Cohen In Prague
Get link

Facebook

Twitter

Pinterest

Email

Other Apps
When Sonora Police Department Chief Turu VanderWiel reflected on the shooting of Newman Police Cpl. Ronil Singh on Wednesday morning, he was "brought home a little bit" because of the similarities between the two departments.
"We live in a great community, but bad things happen in great communities. It's a reminder that it can happen anywhere," he said.
Newman, located 75 miles away from Sonora, south of Modesto in Stanislaus County, has a police department that is comparable in size to the one in Sonora, VanderWiel said.
The shooting was a visceral reminder to VanderWiel that if a fatal shooting could happen in the Central Valley town of 11,000 people, then Sonora could could be endangered as well.
"We encourage our officers to always remain vigilant, but these kinds of actions act as a stark reminder that these dangers are real and are out there," he said. "It heightens our awareness and our officer safety practices."
Officers with the Tuolumne County Sheriff's Office and the Sonora Police Department are looking for the suspect, described as a heavy-set Hispanic man with black hair, and have his picture in their cars.
They have also been watching closely the roads into the county.
"Any time you hear of an officer losing their life in the line of duty, my first feeling is horrible sadness," Tuolumne County Sheriff Bill Pooley said. "For us, it's about how can we help. It's just being very diligent, looking at the photos and vehicle description, and looking for the vehicle or the person in our community."
Singh was shot and killed during a traffic stop at the intersection of Merced Street and Eucalyptus Avenue in Newman about 1 a.m. Wednesday. The suspect has been identified, but the Stanislaus County Sheriff's Office had not released his name Thursday afternoon. They did say the man was in the country illegally, and they believed he was still in the county.
A gray, extended-cab Dodge Ram pickup truck believed to be owned by the suspect was discovered on the 26000 block of River Road just outside of Newman on Wednesday.
Stanislaus, Tuolumne, San Joaquin and Merced counties were included in a California Highway Patrol "Blue Alert" on Wednesday morning, alerting both the public and members of law enforcement to be watchful for the suspect.
The morning of the shooting, the Tuolumne County Sheriff's Office gave photos of the suspect (and photos of the vehicle before it was located) to deputies during their twice-a-day briefings that begin shifts.
"We cover all those details in briefing," Pooley said.
The Tuolumne County Sheriff's Office, like the Sonora Police Department, provided digital images to patrol units to see in their vehicles. The patrol unit vehicles also have internet access where new information is available or the images can be readily obtained.
"The great thing in this day in age is we now have the computers in the car," Pooley said. "You could keep a clear photograph of the individual so our deputies know what they're looking for."
VanderWiel said information was provided to the Sonora Police Department via a computerized law enforcement database for information sharing. That information was then disseminated through email to all officers and directed to commanding officers to discuss during briefings.
Pooley said it likely made deputies more aware of their surroundings while on patrol.
"I think it brings it into the forefront of your mind. Our folks are very, very vigilant all the time anyway but it's a reminder that you want to make sure you use your tactics and backup and use solid decisions," he said.
Before the vehicle was located, deputies kept a close look on the highway entrances into Tuolumne County where they suspect could have entered into the area, Pooley said.
"For our county, there's only a few major corridors that comes in out of those areas, so we start looking for that vehicle," Pooley said.
"In the back of your head, you're looking for this vehicle all the time," he said. "It's just like being a good citizen. I'm sure everyone else is looking for this vehicle as well."
The Tuolumne County Sheriff's Office was not provided with any confidential information in the investigation that was not being given to the public, Pooley said.
Pooley said the Tuolumne County Sheriff's Office will not get involved in the ongoing investigation in Stanislaus County, but as a partnering agency could be asked to provide resources.
The Sheriff's Office did not initiate any additional patrols, he said.
Members of the Tuolumne County Sheriff's Office were in the Deputy Sheriff's Association, which had a widows and orphan fun to donate money to the family of Singh, he said.
Deputies contributed to the fund as a part of their participation in the association, he said, and it was just another way to offer respectful condolences.
The last Tuolumne County law enforcement officer to die in the line of duty was Tuolumne County Sheriff's deputy Dave Grant, who died in a car crash while responding to a plane crash at Columbia airport on May 31, 2004.
Grant was a former Sonora Police officer and a Tuolumne County native, the first person to die on duty in Tuolumne County since 1967.
When Grant was taken to the hospital, he was attended to by former Sonora Police Chief Duane Ellis and former Tuolumne County Sheriff Dick Rogers.
"He loved his profession, he loved helping people and he loved Tuolumne County. This department is shaken to its core," Rogers said to The Union Democrat at the time.
Grant's death prompted an outpouring of reflection from county law enforcement, who recalled him beginning his law enforcement career in 1973 as an Explorer cadet for the Sonora Police Department. He served as a traffic enforcement officer for four years beginning in 1979, eight years in Oceanside, and took a job with the Sheriff's Office in 1989.
22115428 - on
Read the whole story
· · · ·
Union Democrat
-
55 minutes ago
Officers with the
Tuolumne County
Sheriff's Office and the Sonora Police Department are looking for the suspect, described as a heavy-set ...
<a href="http://MyMotherLode.com" rel="nofollow">MyMotherLode.com</a>
-
Dec 26, 2018
Update at 5:30 p.m.: Stanislaus
County
Sheriff's Detectives now add that while working on a tip, they served a search warrant in the 26000 ...
Next Page of Stories
Loading...
Page 2
Germany's Far-Right Rebrands: Friendlier Face, Same Doctrine
The New York Times
A far-right youth movement is part of a growing network of actors giving extremism a friendly face — and worrying intelligence officials.
"Russian Intelligence services" - Google News
Read the whole story
· · ·
A mobile phone traced to President Donald Trump's former lawyer and "fixer" Michael Cohen briefly sent signals ricocheting off cell towers in the Prague area in late summer 2016, at the height of the presidential campaign, leaving an electronic record to support claims that Cohen met secretly there with Russian officials, four people with knowledge of the matter say.
During the same period of late August or early September, electronic eavesdropping by an Eastern European intelligence agency picked up a conversation among Russians, one of whom remarked that Cohen was in Prague, two people familiar with the incident said.
The phone and surveillance data, which have not previously been disclosed, lend new credence to a key part of a former British spy's dossier of Kremlin intelligence describing purported coordination between Trump's campaign and Russia's election meddling operation.
The dossier, which Trump has dismissed as "a pile of garbage," said Cohen and one or more Kremlin officials huddled in or around the Czech capital to plot ways to limit discovery of the close "liaison" between the Trump campaign and Russia.
The new information regarding the recovery of Cohen's cell phone location doesn't explain why he was apparently there or who he was meeting with, if anyone. But it adds to evidence that Cohen was in or near Prague around the time of the supposed meeting.
Both of the newly surfaced foreign electronic intelligence intercepts were shared with Special Counsel Robert Mueller, people familiar with the matter said. Mueller is investigating Russia's 2016 election interference and whether Trump's campaign colluded in the scheme. Mueller also is examining whether Trump has obstructed the sweeping inquiry.
McClatchy reported in April 2018 that Mueller had obtained evidence Cohen traveled to Prague from Germany in late August or early September of 2016, but it could not be learned how that information was gleaned.
Cohen has been cooperating with Mueller's investigation since he pleaded guilty on Aug. 21 to charges of bank fraud, tax fraud and campaign finance law violations. He later pleaded guilty to one count of lying to Congress, and was sentenced in early December to three years in prison.
If the foreign intelligence intercepts are accurate, the big questions now are whether Cohen has acknowledged to investigators that a meeting in Prague occurred, informed them what transpired and revealed what, if anything, he told Trump about it.
Four people spoke with McClatchy on condition of anonymity due to the sensitivity of information shared by their foreign intelligence connections. Each obtained their information independently from foreign intelligence connections.
Peter Carr, a spokesman for Mueller's office, declined to comment about the electronic evidence.
Cohen gained a reputation as Trump's "fixer" during more than a decade working as a lawyer for the billionaire real estate developer. He has vehemently denied that he ever traveled to Prague, but it's unknown what he has told Mueller's team.
More recently, Cohen has avoided discussing Mueller's inquiry, saying he does not "want to jeopardize the investigation."
Cohen's spokesman, Lanny Davis, reiterated his client's denials about Prague in a phone interview this week.
Cohen "has said one million times he was never in Prague," Davis said. "One million and one times. He's never been to Prague. … He's never been to the Czech Republic."
Davis, a longtime Democratic political operative, declined to comment about the new foreign intelligence.
Davis, however, is no longer part of Cohen's legal team. He acknowledged that he has not been fully briefed on what Cohen has told Mueller's investigative staff in some 70 hours of interviews dating to last August, when Cohen pleaded guilty. Earlier this month, Mueller advised Cohen's sentencing judge that Cohen has provided substantial assistance in four areas, including in "core" areas of the Russia inquiry. Mueller did not elaborate.
Mueller has already secured indictments accusing 25 Russians of unleashing a cyber broadside at the United States, including the hacking and public release of top Democrats' emails and circulation of a flood of phony and harshly critical social media messages about Trump's opponent, Democrat Hillary Clinton. The special counsel has yet to charge any Trump surrogates or allies with colluding in the Russian offensive, though several top campaign aides have also cut plea deals for unrelated crimes in return for their cooperation in the inquiry.
Former Watergate prosecutor Jill Wine-Banks said that if disclosures of the foreign intelligence intercepts are true, "This is a very significant break, because it looks like a direct link between Donald Trump's personal fixer and Russians most likely involved in the disruption of our election."
"It would prove that lying was going on, not only about being in Prague, but much beyond the Prague episode," she said.
Steele's dossier, a compilation of intelligence from his network of Kremlin sources, is full of uncorroborated details about the purported meeting.
It said Konstantin Kosachev, a longtime member of the Russian Senate and chairman of the Federation Council's Foreign Affairs Committee, "facilitated" the gathering.
Steele reported that Kosachev may well have represented the Russians in Prague, where he had extensive ties. But Mike Carpenter, a former Russia specialist at the Pentagon under President Barack Obama, said that seems unlikely – about "as discreet as sending (Secretary of State) Mike Pompeo to meet with an informant on a sensitive issue."
Kosachev has publicly denied traveling to Prague in 2016.
Among the goals of the meeting, the dossier said, was to limit negative news reports about the Russia-friendly relationships of two Trump campaign aides— foreign policy adviser Carter Page and just-ousted campaign Chairman Paul Manafort — and to ensure that European hackers were paid and told to "lie low."
While the foreign intelligence about Cohen does not confirm a meeting even occurred, it provides evidence that he traveled to the Czech Republic, where the sources said his phone was momentarily activated to download emails or other data.
Cohen's denials about Prague stand in the face of court admissions that have damaged his credibility.
In his second guilty plea in late November, he confessed to a single count of lying to Congress in denying that he had contact after January 2016 with Russians in pursuit of a long-sought Trump-branded hotel in Moscow. Cohen now acknowledges his contacts with Russians about the hotel continued for nearly six more months while Trump wrapped up the Republican presidential nomination.
The most publicized charges in his earlier guilty plea in New York last August related to hush money payments he arranged days before the election for two women who were about to publicly allege they had sex with Trump. Cohen kept the payments secret for more than a year after the election.
Trump has repeatedly sought to disparage Mueller's investigation, echoing the words "no collusion" and "witch hunt" over the last two years.
Davis said he hopes that, after Mueller has completed his investigation, Cohen "will be able to tell his story about Donald Trump and what caused him to change his mind about working for Trump and telling the truth about Trump … Then he'll be able to talk about all the reasons why he believes Trump is a dangerous man to be president."
Another former Watergate prosecutor, Nick Akerman, said Davis' denials about a Prague trip can't be taken too seriously because it would be "standard for Mueller to tell Cohen and his lawyers not to discuss publicly the details" of the investigation.
Cohen and Trump gradually became estranged after Trump's election victory, and they severed ties entirely last May, as multiple investigations into Cohen's activities heated up.
The cell phone evidence, the sources said, was discovered sometime after Cohen apparently made his way to the Czech Republic.
The records show that the brief activation from Cohen's phone near Prague sent beacons that left a traceable electronic signature, said the four sources.
Mueller's investigators, some of whom have met with Steele, likely also pursued Cohen's cell phone records. It would be a common early step in such an investigation for a prosecutor to obtain a court warrant for all U.S. and foreign phone company records of key subjects, even those dating back more than 18 months.
Such data might enable investigators to track Cohen's whereabouts whenever the phone was in his possession, even if it was turned off, said several experts, including a former senior Justice Department official who declined to be identified.
These officials said intelligence agencies and federal investigators often can examine electronic records to trace the location of a cell phone or any other device sending signals over phone lines or the Internet, so long as the data was still stored by phone carriers or cell phone manufacturers that offer location-tracking services, such as Apple and Google.
Jan Neumann, the assumed name of a former Russian intelligence officer who defected to the United States years ago, said that Cohen's electronic cell tower trail appears to reflect sloppy "tradecraft."
"You can monitor and control cell phones in Europe same as you do it here in US," Neumann told McClatchy. "As long as the battery is physically located in the phone, even when it's turned off, the mobile phone's approximate location can be detected and tracked. Any attempt to use an app, to get mail, send texts, connect to a Wifi network, your phone and your location will be detected."
"It would not be very professional to take your phone to a secret meeting," said Neumann, who has consulted for the U.S. intelligence community. In this case, he said, "it would be more logical to leave it turned on and connected to a WIFI network in a hotel in Germany."
It was during the same late August-early September time span in 2016 that an Eastern European intelligence agency eavesdropped on a conversation in which a Russian official advised another that Cohen was in Prague, two of the sources said.
The sources could not definitively pin down the date or dates that the intelligence indicated Cohen was in the vicinity of Prague. Cohen has insisted that he was in Southern California with his son from Aug. 23-29, 2016, but his public alibis have not been so airtight as to preclude flights to and from Europe during the relevant period.
Even if Cohen has told investigators about a furtive meeting in Prague, it could be difficult for Mueller to corroborate his story. Any Russians with whom he met are likely out of the reach of U.S. law enforcement officials, because the United States has no extradition treaty with Moscow.
If Cohen indeed made the journey to the Czech Republic, one lingering mystery is how he entered Europe's visa-free, 29-nation Schengen area without detection. While those countries' open-border arrangements would have spared Cohen from having to produce a visa to travel between Germany and Prague, U.S. and European authorities should have a record if he took a trip to Europe. Those records are not public.
Congressional committee chairs, including California Rep. Adam Schiff, who will lead the House Intelligence Committee beginning in January when Democrats take control, have asked Cohen to return to Capitol Hill to testify further about his knowledge of Trump's ties to Russia.
But Davis said Cohen won't appear publicly until Mueller completes his investigation.
Peter Stone is a McClatchy special correspondent.
Kevin G. Hall contributed to this report.
twitter: @greggordon2
Read the whole story
· · · · · · · ·
FERGUS FALLS, Minn. — Claas Relotius, who spent weeks reporting in Fergus Falls last year for one of Europe's most respected publications, could have written about the many residents who maintain friendships across partisan lines, about the efforts to
lure former residents back
to west-central Minnesota or about how a city of roughly 14,000 people maintains a robust arts scene.
To give a sense of the place, he could have described local landmarks like the giant statue of
Otto the Otter
. Or the Minnesota-shaped welcome sign next to the Applebee's. Or the expansive prairie that surrounds the town.
But he did not.
Instead, Mr. Relotius
invented
a condescending fiction. On the venerated pages of Der Spiegel, a German newsmagazine, Mr. Relotius portrayed Fergus Falls as a backward, racist place whose residents blindly supported President Trump and rarely ventured beyond city limits. He made up details about a young city official. He concocted characters, roadside signs and racially tinged plotlines.
"I just think of the false impression it gave to the people of Germany," said Mary Lou Bates, 85, as she drank coffee with a friend Wednesday at the Viking Cafe, one of the many places in town that Mr. Relotius described inaccurately in his March 2017 story.
But Ms. Bates, who suggested that bias against Mr. Trump may have fueled the article, said she was not one to hold a grudge. "If the story is retracted, and the true story comes out," she said, "you can forgive. I'm one for forgiveness."
In recent days, as Mr. Relotius was exposed for fabricating stories for years on multiple continents and was fired from Der Spiegel, Fergus Falls has found itself in the midst of an
international furor
that it did not ask to be part of. The American ambassador to Germany accused Der Spiegel of a pattern of journalistic malpractice. National and international news outlets have visited the city, about 175 miles northwest of Minneapolis. Painful memories of being lied about have resurfaced.
But as upset as Fergus Falls residents were with their treatment — upset enough to compile a
damning point-by-point rebuttal
of Mr. Relotius's story — many of them have also been willing to accept apologies, set the record straight and forge ahead, almost sanguine about the whole ordeal. Another Der Spiegel reporter, who visited Minnesota in recent days to
chronicle Mr. Relotius's missteps
, suggested that Fergus Falls might be "the most forgiving city in the Western Hemisphere."
"We're taking the high road," Mayor Ben Schierer said in an interview, in which he praised his city's
arts
,
parks
and schools, which mostly seemed to escape Mr. Relotius's notice. "We've moved on."
Indeed, amid the heartache and hassle, some in Fergus Falls have seized an opportunity to tell the world what their city is really like. Sure, it has its struggles and tensions. But on the whole, residents get along, there is plenty to do, people enjoy living there.
"It's not Mayberry, but there's a lot of opportunity," said Mr. Schierer, who owns a pizza restaurant and brewery where Mr. Relotius would write when he was in town. "There's optimism."
Michele Anderson, who works for a
local arts nonprofit
, said she had been eager to read Mr. Relotius's work and used Google's translation service last year to convert the German text to English. The translation was imperfect, but it was immediately clear that the story was a fabrication. When Ms. Anderson saw someone praise the article on Twitter in April 2017, she replied that the story was false, a "hilarious, insulting excuse for journalism." For more than a year, Der Spiegel did not respond.
Because the article was published only in German, its readership in Minnesota was limited. But civic leaders commissioned a professional translation, the text of which circulated around town in a shared online document. Outrage simmered.
The article's fabrications ranged from the trivial (an account of a foreboding forest that does not exist and a Super Bowl party that did not happen) to the personally devastating (the city administrator was falsely portrayed as a gun-obsessed, romantically challenged man who had never seen the ocean) to the downright inflammatory (Mr. Relotius claimed there was a sign that said "Mexicans Keep Out" at the entrance to town).
Frustrated but unsure what recourse they had, most Fergus Falls residents quietly moved on. But Ms. Anderson, along with a friend, went to work on a detailed fact check of the article, which
they published last week
after Mr. Relotius was outed as a fraudster. Its title: "Der Spiegel journalist messed with the wrong small town."
"There's really nothing like this feeling — knowing that people in another country have read about the place I call home and are shaking their heads over their coffee in disgust," Ms. Anderson wrote in her post.
Mr. Relotius, who visited around the time of Mr. Trump's inauguration, had been fixated on voters' support for the new president. Indeed, about 64 percent of voters in Otter Tail County, of which Fergus Falls is the county seat,
chose Mr. Trump in 2016
, though Hillary Clinton narrowly won Minnesota.
The election results speak for themselves, but a series of interviews this week with Fergus Falls residents revealed political nuance — liberals, conservatives, people who politely said it was no one's business.
"It's not an eyes-closed, all-for-Trump type of community," said Ward Uggerud, 69, a retired electrical engineer, who like many people declined to say whether he voted for the president. "It's an all-for-the-community place. Everybody's got to do their part."
Unlike other American counties that voted for Mr. Trump, there was not a wild political swing in Fergus Falls, making it a strange place for Mr. Relotius to choose to profile. Otter Tail County had also supported Mitt Romney and John McCain. And well-trod story lines about factory closures and population decline, often cited in accounts of Mr. Trump's success, did not apply in Fergus Falls, where the downtown is bustling and the population is steady. (A Target store closed recently, despite community efforts to save it, but that was after Mr. Relotius left town.)
All that left residents wondering: Why did Mr. Relotius write what he did? And since he wasn't going to tell the truth, why did he even bother coming?
"What happened, I think, was that he was trying to look for a cliché of a Trump-voting town and he simply didn't find it," said Christoph Scheuermann, the Der Spiegel correspondent who visited Fergus Falls last week to apologize and write about the town's true story.
Mr. Scheuermann said the Fergus Falls he encountered was "almost the opposite" of the one Mr. Relotius described.
"I felt a lot of warmth," he said. "Everybody was welcoming."
Read the whole story
· · · ·
Next Page of Stories
Loading...
Page 3
Stephen Blank: Trump's presents for Putin
Kyiv Post
This is the season for gift giving. And nobody has been more lavish in gift giving than President Trump. Indeed, he has bestowed upon his hero, Vladimir Putin, ...
OPED: Mattis' truth-telling resignation
York Dispatch
Resignation letters can be rants. Meltdowns. But mostly they're boilerplate. One job site advises quitters to be brief, not to burn bridges, and — this above all ...
"trump authoritarianism" - Google News
Scarborough: Trump on track to be 'worst president of modern times' | TheHill
The Hill
MSNBC host Joe Scarborough said Wednesday that President Trump was on track to become the "worst president of modern times," while criticizing Republican ...
"trump and republican party" - Google News
Analysis of President Donald Trump's December 19 announcement that U.S. military forces would withdraw from Syria within 30 days has rightly focused on the potential adverse
consequences
for the unfinished campaign to defeat the Islamic State (ISIS), and on identifying the geopolitical
winners and losers
. Syrian President Bashar al-Assad, who was already in a strong position, is finally free of any meaningful threat from Washington. His principal backers, Russia and Iran, have gained prestige and regional influence. Meanwhile, the closest U.S. partners in Syria – the Kurds, but also Britain and France – have been left holding the bag.
But this is hardly the final round in Syria's civil war, and U.S. policymakers and others would be well-served to think through what will happen when the strategic map resets. Of course, the United States was never the dominant actor in Syria, and its influence routinely has been overstated. Nevertheless, over the past seven years,
big Syria policy decisions
– good, bad, and ugly – have profoundly impacted the course of the war. If implemented, Trump's latest decision will be no different. Russia and Turkey, the two most important external actors remaining in Syria, both stand to gain from the U.S. withdrawal, but both also have reason to be
anxious
over precisely how the resulting vacuum will be filled. How are Russia and Turkey likely to react, and what might be the consequences, positive or negative?
For several months, the war in Syria has effectively been
frozen
. After recapturing pockets of insurgent control in the Damascus suburbs and along the Jordanian border earlier this year, Assad's military campaign has ground to a halt. Instead of the Assad
victory
some predicted, a series of
ad hoc
, internationally-brokered agreements have solidified lines of control and prevented further advances by any side. The result has been a
de facto
partition of the country into three clearly delineated zones of influence in the west, northwest, and east – backed, respectively, by Russia and Iran (west), Turkey (northwest), and the United States (east). While this arrangement has dramatically diminished the bloodshed, it has not satisfied the strategic objectives of any of the major parties and therefore remains highly unstable.
Two weeks ago, Turkish President Recep Tayip Erdogan forced the issue, stating that Turkey was ready to
invade
the U.S.-backed zone to remove from its border Kurdish military forces aligned with the Kurdistan Worker's Party (PKK), which Ankara has been fighting for more than thirty years. After playing an instrumental role in the battle of Kobani in October 2014, these forces emerged as the key U.S. partner in the fight against ISIS in Syria. Turkey views their growing military strength and political legitimacy as an acute threat to its national security – a point Erdogan has made repeatedly to both President Obama and President Trump. Erdogan's promise that a Turkish invasion would help to "
eradicate whatever's left of ISIS
" is a rouse: Turkey's objective is to weaken the Kurds, not ISIS, and in any case the remaining pocket of ISIS control is more than a hundred miles from the Turkish border, all through Kurdish-controlled territory. Nevertheless, Trump appears to have taken this promise seriously.
So long as U.S. forces remain in Syria, Erdogan's military plans are a very risky proposition. But a U.S. withdrawal upsets the fragile equilibrium, opening the door for Turkey and leaving the Kurds exposed. The Kurds cannot maintain control over the territory they currently hold absent international security guarantees: Kurdish lines are too long, their control over traditionally Arab areas too tenuous, and they have no air force to counter attacks from either Turkey or the Syrian government.
France
has publicly expressed continued support, but it is unclear how a relatively small French contingent can operate without the larger framework of U.S. logistics and intelligence, or whether a French presence would be sufficient to deter an attack. If and when U.S. forces leave, Kurdish-controlled territory is likely to contract sharply.
The main question is who will claim the spoils: Turkey or the Syrian government (with Russian and Iranian help)? There are two basic scenarios. In one, Turkey launches an attack on Kurdish forces east of the Euphrates and seeks to expand its own sphere of influence on the Syrian side of the border. If successful, this would neutralize the Kurdish threat and create another buffer zone in which Syrian refugees might ultimately be able to return, analogous to the
Euphrates Shield
area in northwest Syria. In the second scenario, the Kurds cut a deal with Damascus that returns eastern Syria to government control, in return for some degree of Kurdish autonomy and protection from Turkey. Of course, these scenarios are not mutually exclusive: Turkey could proceed with a preliminary operation against Manbij, on the Kurds' northwestern flank, at the same time that the Syrian military and its allies attempt to retake Tabqa Dam or oil and gas infrastructure in Deir ez Zor province, further south.
In any scenario, the scramble for territory is likely to sharply increase tensions between Russia and Turkey. While Turkish threats work to Damascus' advantage, since they increase its leverage in
negotiations
with the Kurds, neither the Syrian government nor Russia want to see a fresh Turkish invasion. This would undermine Assad's core objective of reclaiming "every inch" of Syrian territory, create a new safe haven for Turkish-backed Syrian forces that continue to oppose Assad's rule, and potentially deny Damascus access to energy and agricultural resources that it desperately needs to fund reconstruction. Russia is therefore likely to seek to accelerate talks between the Syrian government and the Kurds, while offering Turkey assurances that its interests will be protected and, crucially, pressing Turkey not to press further into eastern Syria. Russia has cards to play here: in addition to Turkey's dependence on Russian natural gas, Russia serves as the guarantor of the October
agreement in Idlib
that forestalled a Syrian government offensive which could send more than a million new refugees into southern Turkey. In Idlib, Russian and Turkish interests aligned; in the east they do not.
At the same time, however, Erdogan appears to have a green light from Washington, and in any case there are sound strategic reasons for Turkey to proceed, even in the face of protests from Moscow. The departure of U.S. military forces from eastern Syria is
not an unambiguously positive development
for Ankara. Turkey has lost the ability to play the United States and Russia off one another, and should the Syrian government and the Kurds reach an accommodation, there is every reason to suspect they will soon find common cause against Turkey, as they have many times in the past. This is likely to begin with Assad's support for a Kurdish offensive to retake Afrin, which Turkey seized in March, and could develop into broader cooperation to harass and ultimately expel Turkey from all of northern Syria. There is no question that expanding Turkish operations into the east carries significant risks, which is probably one of the main reasons Erdogan has
delayed
his plans. But sitting tight while Turkey's adversaries in Syria unite is not terribly appealing, either. By proceeding, Erdogan might be able to deal the Kurds a decisive blow, while keeping attention focused on the east (rather than the northwest) and giving himself more chips to trade in when he needs them.
Whatever happens, with the United States out of Syria it is hard to see how Russia and Turkey do not rapidly find themselves at loggerheads – either because Russia is unable to protect Turkey's interests in Syria, or because a Turkish invasion undermines Russia's efforts to bring the war to a successful conclusion. This would be welcome in so far as it might bring Turkey back into closer alignment with the United States, but an unintended confrontation between the two countries inside Syria or a major clash between Russian and Turkish proxies could easily spiral out of control. In the most extreme case, this could result in Turkey invoking collective self-defense under article 5 of the NATO treaty, which would bring the United States back to Syria in a very different, and far more costly, role. But even absent that, a fresh escalation of the war would be a disaster – for Syria, the region, and international efforts to defeat ISIS.
The challenge of preventing an unwanted escalation is of course made infinitely harder when consequential decisions are made on the fly, without adequate consultation or planning. A responsible withdrawal from Syria requires a diplomatic strategy to manage what comes next.
Photo: Turkish-backed Syrian fighters train in a camp in the Aleppo countryside, northern Syria, on December 16, 2018 (Aref Tammawi/AFP/Getty Images)
Just Security
Read the whole story
· · · · ·
Asked when the government would reopen fully, Trump said he couldn't say.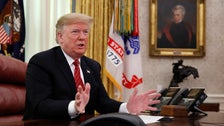 Donald Trump
Get link

Facebook

Twitter

Pinterest

Email

Other Apps