FBI News Review In Brief
M.N.: Mr. Rosenstein, please pay attention to this "matter": If the hackers "remotely configured an overseas computer to relay communications" in DNC hack, why wouldn't they be able to do the same thing to Abedin's Blackberry device, programming it to send the copies of emails to the Abedin-Weiner's laptop for archiving? | 6:35 AM 7/14/2018 – 12 Russians Charged: Major Highlights of the Indictment and Rod Rosenstein's Statement | FBI News Review
fbinewsreview.org
FBI from mikenova (10 sites)
-
Saved Stories - FBI
-
Recent Posts In Brief
- ______________________________________
Links
|
globalsecuritynews.org | fbinewsreview.org | trumpinvestigations.org | worldnewsandtimes.org| world-web-news.com | wwtimes.com | russia-news.org | Posts on G+ | News in Photos | VIDEO NEWS | Audio and Video Mix
The Brooklyn News
– bklynnews.com – Brooklyn N.Y. News |
The Brooklyn Bridge
Puerto Rico News –
pr-us.org – News and Reviews in English and Spanish
News and Time

s
– Last Page Design Update – 12:00 PM 1/22/2018 - Mike Nova's Shared NewsLinks
Mike Nova's Shared NewsLinks
12:45 PM 7/3/2018 – It is hypothetically quite possible that Abedin's BlackBerry device was clandestinely configured by someone who had access to it for a short period of time (1-5 minutes), or remotely, wirelessly by air. Both options are very realistic possibilities. Was this hypothetical explanation properly investigated? Who might have obtained a brief access to Abedin's device? | FBI News Review
---
M.N.: Abedin's BlackBerry device was "intentionally configured" to back-up emails. She did not do it, and denies knowing how to do it. A. Weiner did not have any reasons to do it either.
It is hypothetically quite possible that Abedin's BlackBerry device was clandestinely configured by someone who had incidental access to it for a short period of time (1-5 minutes, it could cleaning or maintenance staff, etc. ), or remotely, wirelessly by air. Both options are very realistic possibilities.
Was this hypothetical explanation properly investigated?
Who might have obtained a brief access to Abedin's device?
Were the Weiner's sexting sessions used to obtain the wireless access to change the controls or configurations on the computer and/or devices? Was this done by the same players who might have, hypothetically, arranged or set up these sexting sessions themselves? Was this possibility adequately investigated?
How did Erik Prince know about the "upcoming Weiner's arrest" and the NYPD investigation from the "very well placed source", and how did Giuliani know about the "October Surprise"?
What are theirs, and also James Kallstrom's and the NY Branch of the FBI sources of information and connections, including the hypothetical connections with the foreign Intelligence Services, including the German Intelligence Services?
Germany is one of the few countries which has the sufficient cyber know-how to conduct these types of the operations, and more than sufficient experience in conducting sophisticated intelligence operations in general, and throughout the history.
These are the legitimate questions to ask.
Michael Novakhov
1:29 PM 7/3/2018
___________________________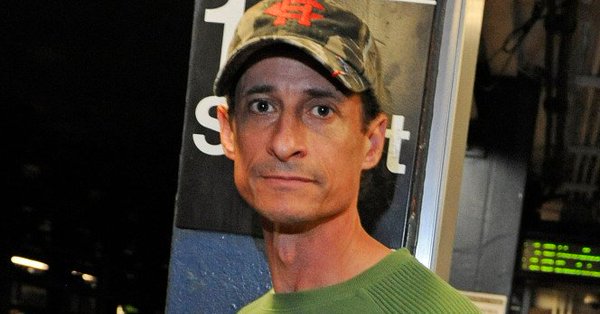 "An examination by of emails released by the State Department shows that backup copies of many of Abedin's work-related messages with Clinton were created in the dates after Clinton left the State Department in early 2013.
The emails, released at the end of December, show that they had been put on Weiner's laptop by a BlackBerry archiving program.
A tech expert told that Abedin would have to have activated the backup program and may well have plugged her device into the laptop – raising further questions over her testimony to the FBI… The messages were archived from 'BBB Backup' and 'LoaderBackup' from a BlackBerry Bold 9700 in February 2013 – weeks after Huma and Hillary left the State Department… Huma had told the FBI that she did not have a way of preserving the messages she exchanged with her boss and said those conversations were 'left on the system'… The emails show they were sent in from Abedin's BlackBerry on February 3, 2013 and February 7, 2013. She had left the State Department, like Clinton, on January 20… The classified messages included discussions on Israel and other Middle Eastern issues from 2010, 2011 and 2012…
Abedin had told FBI investigators that she did not have a method of preserving the emails she exchanged on a private server with Clinton.
'Abedin stated that she lost most of her old emails as a result of the transition [from the State Department]. 'She had only accessed <a href="http://clintonemail.com" rel="nofollow">clintonemail.com</a> through a web portal and did not have a method for archiving her old emails prior to the transition,' said notes taken during an FBI interview of Huma Abedin on April 5, 2016. Abedin gave a similar response when she was deposed under oath by attorneys from Judicial Watch on June 28, 2016. 'With respect to those State Department work-related emails on the accounts, what did you do, if anything, to preserve those emails?' asked an attorney with Judicial Watch, according to a transcript of the deposition. Abedin responded that she 'did not do anything to preserve those emails'… 'The instances where it was Clintonemail to Clintonemail, there were instances where the content of those emails had personal matters in there, and there may have also been State Department matters in there, too. 'It was a – a combination. But I did not – I did not preserve those e-mails,' added Abedin. Abedin and other members of Clinton's inner circle at the State Department used multiple email addresses – including one official State Department account, and another on Clinton's private email server located at her home. Abedin testified that she left all of her emails from her Clinton server account in her inbox after leaving the State Department. She said she did not delete any emails. 'I just left everything on what – on the system, I guess,' she said during her deposition. The discovery of the existence of the Clinton server has led to a series of lawsuits by Judicial Watch. It was during one of those that Abedin was deposed under oath and it was due to another one that the State Department had to release the latest tranche of emails last Friday.
Abedin has said she was not aware that her emails were on Weiner's laptop and did not know how they ended up on his computer.
She reportedly used the laptop occasionally to check her messages.
Some of the emails found on Weiner's laptop were forwarded to him directly from Abedin, their details show.
But many of them ended up on the computer through the backups of Abedin's BlackBerry on February 3, 2013 and February 7, 2013. She had left the State Department, like Clinton, on January 20.
The messages were archived from 'BBB Backup' and 'LoaderBackup' from a BlackBerry Bold 9700.
Ariel Coro, a technology consultant and analyst for Univision, reviewed the emails and told <a href="http://DailyMail.com" rel="nofollow">DailyMail.com</a> that
Abedin or someone working for her would have had to intentionally set up the backup program for her BlackBerry.
'What you're seeing here is a backup restore of what was sent from her phone,' said Coro.
'They set up a backup to be done when she plugged it in to her computer, to the laptop, or potentially over the air [remotely].
'This is not an accident, this was configured to back up,
either directly [to the laptop] or through the air,'
he added. 'This was something that was configured, or at least opted-in.'
That means that either Abedin, or an assistant, consciously set up the backup system or that she confirmed that she wanted to backup when she was prompted to by her BlackBerry.
Once that program was set up, it could be scheduled to archive her data automatically. It could have also been programmed to save phone contacts, photos, texts and other phone data.
The emails released by the State Department included at least five messages from Abedin that were marked 'Classified' and were found on Weiner's laptop. The government classifies information at that level when its exposure 'reasonably could be expected to cause damage to national security.' The classified messages included discussions on Israel and other Middle Eastern issues from 2010, 2011 and 2012. "
Mike Nova's Shared NewsLinks
Peter Strzok explains Russia dossier route from Hillary Clinton campaign to FBI
---
The lengths to which the
FBI
relied on the Hillary Clinton opposition research dossier to investigate her political rival came into sharper focus with the testimony of the lead investigator,
FBI
agent Peter Strzok. Mr. Strzok told a joint House committee last week that the
FBI
received from Associate Attorney General
Bruce Ohr
a raft of documents — including sections of the anti-
Trump
dossier — during the investigation into
Russia
election interference. The first-time disclosure is significant because it confirms an unusual and continuing channel for collusion accusations that started outside the government with anti-
Trump
people and reached
Mr. Ohr
at the
Justice Department
and then the
FBI
. Around that time,
Mr. Ohr
was communicating with dossier writer
Christopher Steele
.
Mr. Ohr
's wife, Nellie, a
Russia
researcher, worked for
Mr. Steele
's paymaster, investigative firm Fusion GPS, which was trying to damage Republican presidential candidate
Donald Trump
.
Mr. Ohr
met with Fusion co-founder Glenn Simpson after the November 2016 election. Mr. Strzok, who led the
FBI
investigation of the Trump campaign, testified that he began receiving dossier sections in September 2016, but not from
Mr. Ohr
, and continued receiving documents into 2017. Mr. Strzok testified that he met with
Mr. Ohr
during that time. The arrangement suggests that the
FBI
used the partisan, anti-
Trump
dossier and was eager to receive its episodic chapters from June to December 2016. None of the
Russia
-
Trump
collusion charges has been publicly confirmed to date.
Mr. Steele
's sources resided in the Kremlin.
Mr. Steele
, a former British spy who told
Mr. Ohr
he wanted to destroy the Trump candidacy, ultimately was paid by the Clinton campaign and the Democratic National Committee. Mr. Strzok's text messages at the time revealed that he despised
Mr. Trump
and wanted, in his word, to "stop" him. He told the House Judiciary Committee and Oversight and Government Reform Committee task force that his
FBI
legal handlers placed tight controls on what he could disclose about his handling of the dossier.
The agent testified that he couldn't specify the "various places" where the
FBI
received dossier information or when he learned that Mrs. Clinton had funded it. But he did confirm: "I have been directed that I may state that I have read the dossier, that I read the dossier as it came in in parts and pieces to the
FBI
. "
Mr. Ohr
gave the
FBI
documents, which included material that I believe originated from
Mr. Steele
," Mr. Strzok testified. Rep. Jim Jordan, Ohio Republican, had the job of trying to pry open dossier secrets from Mr. Strzok, a career counterintelligence agent. Mr. Jordan read from a Strzok email to colleagues. The email said Mr. Simpson and David Corn, a Mother Jones magazine writer who formed a close bond with
Mr. Steele
, also provided the
FBI
with dossier claims.
Mr. Steele
accused
Mr. Trump
of supporting an "extensive conspiracy" with the Kremlin to interfere in the presidential election. He made specific charges of collusion against
Trump
people that remain unconfirmed publicly two years later. At the end of Mr. Strzok's testimony, Republicans gained a clearer picture of how the
FBI
acquired the Democrat-financed dossier that came to dominate the bureau's investigation yet contained so many shaky charges. Republicans now know that the dossier trail started with
Mr. Steele
,
Mr. Ohr
, Fusion GPS and Mr. Simpson and a journalist. Mr. Corn has denied he worked with the
FBI
. Republicans knew beforehand that Sen. John McCain, Arizona Republican, hand-delivered a copy of the dossier to
FBI
Director James B. Comey in December 2016. BuzzFeed posted that copy on Jan. 17, 2017. "This is the first time to my knowledge that the
FBI
has admitted they got parts of the dossier from
Bruce Ohr
, a fellow DOJ employee. That's scary," Mr. Jordan said. "
Bruce Ohr
, the fourth-ranking official at the
Department of Justice
, his wife works for Fusion GPS in the summer. He gets information and passed it to the
FBI
. That becomes the basis to spy on the Trump campaign, plain and simple," Mr. Jordan said. "This is the first time to my knowledge the
FBI
has admitted that, and it was good that we got some of that information out today." According to separate House and Senate investigations, the
FBI
fired
Mr. Steele
around election time for violating its rules and going to Mother Jones with his story of a wide
Trump
-Russian conspiracy. Yet his research continued to reach the
FBI
via
Mr. Ohr
. The
Justice Department
demoted
Mr. Ohr
after these disclosures. Before the joint hearing, Republicans unearthed other findings on the
FBI
-dossier marriage. For example, the bureau cited
Mr. Steele
's work to persuade a federal judge to approve wiretaps on
Trump
volunteer Carter Page from October 2016 to the following fall. Mr. Page, a pro-Russian energy investor, visited Moscow in July 2016 to deliver a public commencement address.
Mr. Steele
subsequently wrote that he met with two Kremlin figures sanctioned by the U.S. government.
Mr. Steele
said Mr. Page discussed bribes for sanctions relief. Mr. Page denied the charges under oath repeatedly and said he never met the two Kremlin figures. He has not been charged.
Mr. Steele
also wrote that Mr. Page and Paul Manafort,
Mr. Trump
's former campaign manager, conspired with the Kremlin to interfere in the election. Mr. Page testified that he had never met nor spoken with Mr. Manafort. Committees also previously discovered that the
FBI
agreed to hire
Mr. Steele
, with an initial $50,000 payment, to continue investigating
Mr. Trump
. It would have meant the
FBI
was counting on a Democratic Party hired gun to investigate
Mr. Trump
during the transition and presidency.
Justice Department
Inspector General Michael E. Horowitz is investigating how the
FBI
decided to open its probe, seek surveillance warrants and hire at least one confidential human source to spy on some
Trump
people.
THE WASHINGTON TIMES COMMENT POLICY
The Washington Times welcomes your comments on Spot.im, our third-party provider. Please read our
Comment Policy
before commenting.
investigations of deutsche bank, oligarchs - Google Search
| | |
| --- | --- |
| | mikenova shared this story from investigations of deutsche bank, oligarchs - Google News. |
---
hermeneutic analysis as the method of counterintelligence analysis - Google Search
---
Hermeneutics
---
In a Nutshell
You flip open a fat, zillion-page novel. You leaf through an encyclopedia. You read the tabloid headlines in line at the grocery store. You scroll through your Facebook feed. When you look at any of these things, you are, in a word, interpreting them. But what's actually happening when you do this? Sure, you're breathing, you're chewing gum, you're letting your eyes wander toward that foxy individual across the room. But, when you actually work on understanding the words in front of you, what's the process of how you interpret those texts?